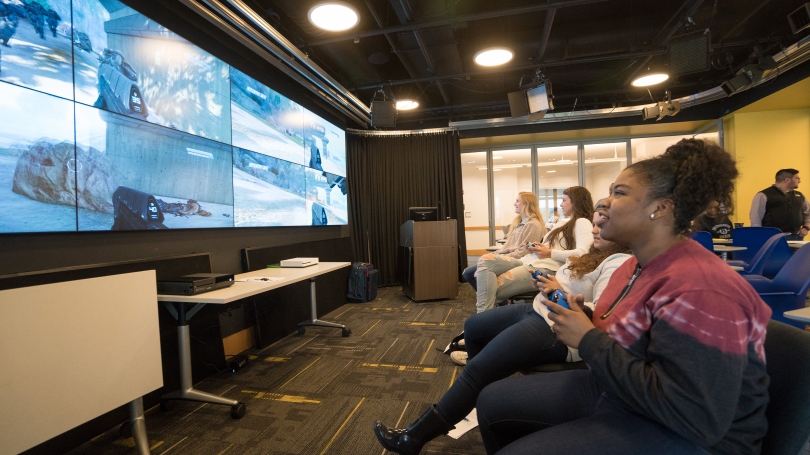 Just beyond the glass walls of the studio, the students' Sociology 1 classmates huddle in groups of their own discussing Peggy Macintosh's 
"invisible knapsack"
 and the intricacies of privilege, identity, and intersectionality. Discussion guides strewn across tables pose questions of race, gender, sexuality, class, religion, ability—the elements of selfhood that layer upon one another, interweaving to create the complex web of one's individual experience.
Sociology Professor 
Kim Rogers
 moves among the groups, observing gameplay in the studio and gazing across the sea of conversations beyond. 
Learning Fellows
 Mark Griffith '19, Sophia Stone '18, and Niame Daffe '18 sit among the students, listening and watching intently. Conversations outside the studio are punctuated with interruptions from within—the rousing cheers of triumph and the frustrated cries of defeat. As new groups cycle into the studio to play, Professor Rogers provides context.
"We're using Halo to experience intersectionality and inequality," she explains.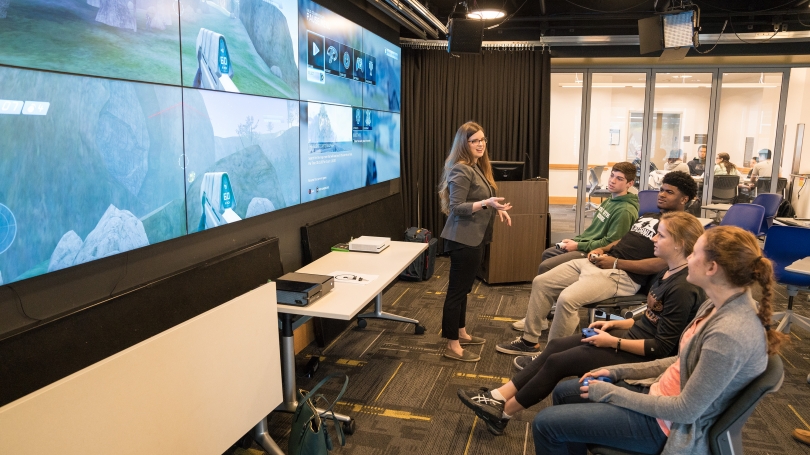 A class of 50, the students of Sociology 1 began the term with varying backgrounds, and varying exposure to concepts and experiences of inequality. For students without prior personal experience, the game, Rogers says, is one way for students to feel privilege and disadvantage firsthand rather than just discussing it. The connection between Halo and concepts of identity and oppression were first explored by scholar 
Samantha Allen
 in response to an idea posed by author 
John Scalzi
. Rogers brought the game into her class as an experiment this term. The game employs "skulls," game settings that can be tweaked to create an easier or more difficult experience. Some skulls make your enemies more resilient, for example, or require you to run into more dangerous situations to earn points. Characters with more activated skulls have a harder time.
Back in the studio, the students are feeling the impact. The students on one side of the room are using zero skulls, and breeze through the game. The students on the other, even for those who are self-proclaimed Halo masters, struggle and ultimately fail. The skull count there? Ten.
"I think if they can experience these differences, even in a game setting, they will be less likely to dismiss each other's experiences, and more able to take different perspectives," Rogers says.
Developing their skill at perspective-taking, along with building students' 
"sociological imaginations,"
 a concept described by 20th century sociologist C. Wright Mills, are two of the course's main objectives. Along with in-class games and weekly reflections, assignments in the course ask students to investigate areas where their personal identities overlap with social dynamics. They map their family trees, conduct field observations of social situations on campus, dig into the Dartmouth archive, and examine educational inequality among students in the class. Rogers hopes these direct experiences of doing sociology, as she puts it, will help the learning stick.
And whether the learning sticks, Rogers thinks, has implications far beyond the classroom.
"Dartmouth students are the future gatekeepers of our organizations, future leaders, doctors, finance experts," she says. "They will be in positions to make significant decisions in situations where inequality can be either compounded or offset. My hope is that, even if the Sociology 1 content doesn't stick, the skills and experiences will."
Designed with Learning in Mind
Sociology 1 is not always delivered using active learning pedagogy or personalized experiences. As Professor Rogers describes, there is no standard formula for this distributive requirement, so the various sections focus on a wide range of subject matter and take different approaches. In one, this takes the form of traditional lecture and standardized exams in a section of 100 students.
"This really works for him," says Rogers, referring to her colleague in the Sociology department. "He is an engaging speaker, and the students respond well. He's also tall, and charismatic, and male," she says with a laugh, explaining that for a diminutive, young, white woman in the social sciences, these personal identifiers can be important factors in teaching.
"I think if I can create opportunities through tangible activities for students to experience issues of privilege and disadvantage firsthand, they can't as easily dismiss what I'm telling them," she says.
Rogers's active learning curriculum, like the addition of Halo 4 to the classroom, has developed through experimentation over time. This term, Rogers is participating in the 
Gateway Initiative
, which focuses on redesigning large, introductory-level courses to make them feel small. Learning Fellow Mark Griffith '19 has seen the course evolve. When he took Sociology 1 in 2016, Professor Rogers incorporated some active and game-based strategies, but the potential for interaction was hindered by the arrangement of the lecture hall where the class met. Griffith describes the challenge of playing "Stratified Monopoly," a version of the classic game that advantages some players over others from the start, in that space.
"Students were sitting in groups in the hallway and on the floor, with the immovable desks getting in the way," he says. "Professor Rogers was running all over, trying to connect with each group." Now, in a large active learning classroom in the Life Sciences Center, the class has more flexibility to learn in a variety of ways. With supplemental spaces and technological capacity in places like the Innovation Studio in Jones, the possibilities are expansive.
Rogers explains that her main purpose in these activities, and of the course overall, is to "make the familiar strange and the strange familiar," quoting C. Wright Mills. Learning Fellow Niame Daffe '18 suggests that aiding in that process is one role that Learning Fellows play.
"We complicate things, so it's not so easy for students to see things from one perspective anymore," she says. For Daffe, who took Introductory Sociology with a different professor, becoming a Learning Fellow has provided the opportunity to engage with the broad ideas of the discipline from a different perspective. As a Sociology major, she also values the chance to investigate the concepts more deeply without the pressure of having to earn a grade.
"It has reminded me why I love learning!" she professes.
Sophia Stone '18 echoes the feeling. She became a Learning Fellow after taking a Genetics course that employed them.
"I really liked the 'near-peer' mentor style. They could explain things differently than the professor could, and explore complex concepts in a way that was more relatable to me," she says.
In Sociology 1, Stone and her peers facilitate small group discussions, keep everyone engaged in activities, and help the class run smoothly, all while challenging the students to look at all sides of a topic, and funneling student insights and feedback to Professor Rogers. Incorporating activities like Halo successfully requires the help of a team, Rogers concurs.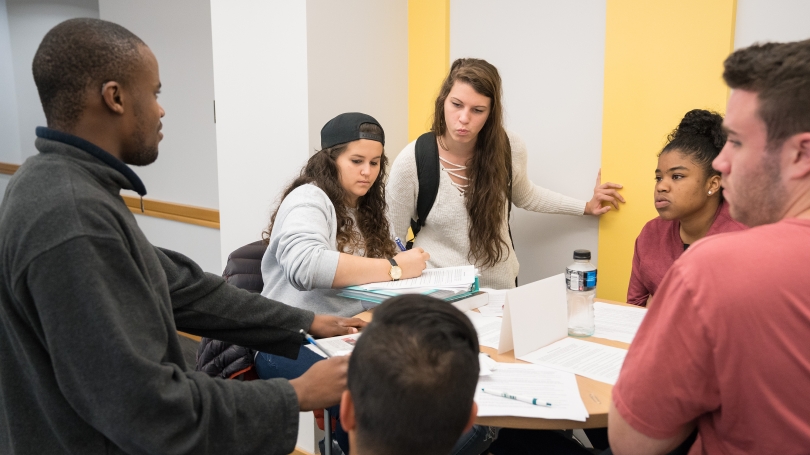 To capture what the students are learning, Rogers requires students to create a portfolio of weekly reflections throughout the term. These written reflections draw together quotes and ideas from course readings with students' reactions to activities and assignments. The idea, Rogers says, is to assess and analyze their own learning.
"Building the skills of reflective practice is a big part of the course. These are the same skills that they employ to think critically about their own and others' social positions," she explains. These reflections, as key parts of active learning pedagogy, also help to cement the learning experience.
Meanwhile, the Learning Fellows mark their learning through reflections of their own.
Daffe says, "Being part of the course is giving me more consciousness of different perspectives, and helping me be more open-minded."
Stone notes facilitation skills, and greater awareness of her tendency to dominate conversations, as two of her most significant learnings.
For Griffith, the course has been an opportunity to "double down on the knowledge," he says, "and gain some experience to inform my thinking about becoming a professor."
The purposeful learning experiences in Sociology 1, like the components of social identity that the course explores, are personal, and layered, and many.